Wire Metals is a company that manufactures and markets specific Zinc based products.
With a majority stake acquired in 2010, the company enters the group's business structure with credibility, confidence and total strength, coupled with the quality and experience of Brazil's first zinc wire manufacturing industry and the bold and competent management of TOR.
In addition to the recognition of the market, there is also a concern with the technical specifications of the isoproducts and our customers, which is true when we are recognized and certified by the ISO 9001 standard and also by staying within the rules established by ASTM, an international body that standardizes the specifications of zinc.
Wire Metals completes 30 years of history. Its foundation, dating from 1980, weighs even more in favor of the great success of the company and the quality of its products that the market already knows and recognizes!
Pioneerism, tradition and quality, is WIRE METALS!
In order to expand its business with an eye to a promising market, Wire Metais has built a second, even bigger, factory in Portugal, where it maintains production focused on customer service throughout Europe. This unit is known as ZWM Metals. It is located in the city of Ferreira do Zêzere, a Portuguese village that is 160 km from Lisbon.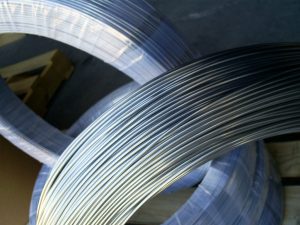 One of the major applications of zinc is in galvanizing, that is, in the use of zinc as a protective layer of others against oxidation. The coating of a zinc surface results in the protection of the base metal, which can be applied by the sputtering process, which may be gas or electric, and also coated in the hot galvanizing process, in liquid baths or by electrodeposition. It is used in the galvanization of building structures, cast iron pipes, gas cylinders, bridges, electrogalvanization, capacitors, electric energy poles, fences, among others. Another way of using zinc is in the form of oxides, for the manufacture of fertilizers, rubber industry, paint, ceramics, glass and the chemical and food industry.